SEO Services for Voice Studios and Coaches
Fill your client list and grow your voice business by getting found in more Google searches.
SEO strategy to show off your services and attract great clients
You are a pro. You're an excellent teacher, singer, coach. You do it well, and you could probably do it with your eyes closed.
You don't need to be an SEO expert too.
I see so many voice teachers talking about how they dedicated 5-7 hours a week for 3 months, researching SEO, taking courses and making tweaks to their website content. Sometimes they've seen results in traffic. But they still lack direction and momentum and it never seems to end.
Instead of spending your valuable hours trying to become a quick expert in SEO, why not invest the equivalent of a few sessions a month into SEO services so you can focus on your true talent?
Doesn't that sound easier to you?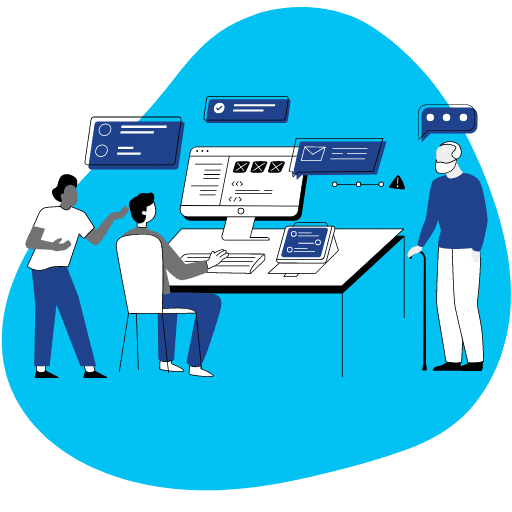 Why you need an SEO Strategy
The world of SEO is dynamic and constantly evolving, and everyone in your field is competing for "page one" in the SERPS.
Content and Keywords are the cornerstone of SEO. Optimizing your website with this strategy helps you attract the right clients so you can fill up your schedule and bring more certainty to your income.
Our plan identifies how you can stand out from the competition. We create a checklist for monthly action items, and every 6 months we perform an in-depth review so your content can evolve as well. 
Leave your SEO to the experts
We know teachers and coaches are freaking busy! You're also used to figuring things out on your own.
You've read the books and watched endless YouTube videos, but DIY doesn't always work out the way you expect it to. You need some guidance.
Follow our SEO Content Plan
Just as you create a course curriculum to guide your students to success, we create an SEO Content Plan tailored to your business needs and aimed at your target audience.
Improve your Organic Ranking
Consistent care for your SEO improves your chances of ranking with your target audience in search engines.
Position your Brand as an Authority
Produce high quality content that keeps your visitors on your site longer and builds trust by positioning you as the expert they need to solve their problems.
What is Included in the SEO Content Plan ?
We have a three part strategy to build a solid SEO foundation, discover which areas we can work on to deliver the highest value for your current state and budget, then review the results monthly and revise.
How many action items we tackle per month depends on your goals and needs. 
SEO Foundation
In the first month, we do an in-depth assessment of your website's Technical SEO setup. We create sitemaps and configure your site structure so it can be found by and properly listed in search engines.
Ongoing SEO Checklist
 From the initial assessment we create your SEO checklist, which contains ongoing monthly tasks that are optimized around keywords to ensure you are producing quality content for your ideal clients. The content they actually want and need.
Monthly Reports
Every month, we review your website statistics to determine which tasks to perform in the next month. We deliver this report along with a video explaining your site's performance and our approach for the following month.
Every 6 months, we'll review your growth with you and revise our SEO strategy as needed.
Attending to your Basic SEO
People are searching for you right now with keywords like local voice teachers, online singing lessons for kids, voice pedagogy workshops, voice pedagogy workshops, and coaching programs for voice studios.
Is your message getting across to your ideal client? When they search, will they find out that you are the one that can teach their high school student to sing while their voice is changing? Or that your coaching service or course is the one they need to boost their skills to take their studio to the next level?
People spend years studying Search Engine Optimization best practices and techniques, and still don't know what to do.
What is SEO?
Search Engine Optimization is the process of optimizing a website  to make it easier to be found on the internet.
The goal is to improve the ranking of this content so that it appears higher in search engine results.
What is keyword research?
Keywords are what people type into Google to find what they are looking for.
We identify and organize these keywords and phrases into topics that are most relevant to your business.
What is an SEO content strategy and why do I need one?
Know your target audience and researching their needs helps us determine the content you can create that is more likely to appear in search engine results.
Without a content plan, your pages won't be written clear enough for your ideal client to relate to it (if it even gets found). Your blog posts will likely be either non-existent or sporadic and random because you have no idea (or too many ideas) what to write about,
Targeted keywords can help you attract more of the right visitors to your website, resulting in increased sales or leads.
What is Technical SEO?
We check out your server and settings to make sure you have an accurate sitemap to show Google what add to its database. Then we look for and fix things like broken links and "page not found" errors.
What is On-site SEO?
Also called on-page SEO, this is all the content on your website that shows you're an authority in your field. This includes titles, excerpts, headers, alternative text, design and even website speed.
What is Off-site SEO?
This is everything else across internet that tells Google and web surfers that you're an authority. When other sites link to pages and articles on your site, they are establishing trust for you.
What is an SEO audit?
The goal of an SEO audit (also called evaluation or assessment) is to identify areas for improvement so your website can rank higher in search engine results pages.
Depending on your goals, we can run these evaluations on specific sales pages, blog posts or across the whole website.
Choose the Right Plan for your Needs
SEO Accelerator
6 Month Strategy

 customized specifically for your goals and website

Advanced keyword research
Post article & images to website for you
Custom link building plan
Technical SEO
Monthly SEO Checklist Deliverables – based on the strategy we come up with to meet your goals
Transparent Reporting (email & video feedback)
$750 / month
+ initial setup fee of $300
SEO Booster
All SEO Accelerator items
Faster growth with more diversified link building deliverables, blog posts, page optimization and guest posts.
We'll build out your strategy according to your monthly deliverables budget.
Starting with the SEO Accelerator, you can increase your budget in $500 increments. No additional fees.
All plans are a minimum of 6 months at a time. (There is no quick shortcut to the top.)
Book a free call with us to see if we're the right match for your SEO needs.